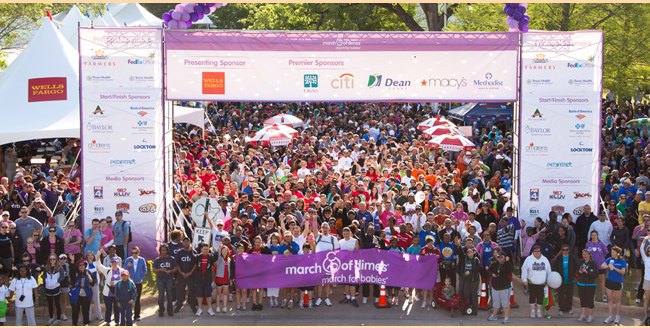 Sponsor one of Philadelphia's fastest growing races and one of the nation's largest charity events. As the first ever race to accompany the famous March of Dimes March for Babies, the Run for Babies 5K & 10K have quickly grown in popularity due to its support from a dedicated race committee and passionate community of runners and volunteers.
Why Be a Sponsor?
Our mission, our programs, our volunteers
Out of one million non-profits in the U.S., March of Dimes is the Number 2 "top of mind" charity named by moms in a 2007 Gallup Survey
98% of moms know the March of Dimes brand
The Benefits of Being a Sponsor
Face-to-face access to premier corporate, medical and consumer audiences
Business-to-business networking opportunities with companies and corporate decision makers
High-quality visibility with on-site and collateral identification including web and print visibility
Targeted product display and sampling opportunities for thousands of participants
Multiple opportunities to build team morale for employees and clients
Creating a run team will complement your existing employee health initiatives
Opportunities to partner with an organization perceived positively by 98% of the American public
Sponsorship & Partnership Opportunities
The Run for Babies offers a wide variety of sponsorship and partnership opportunities.
Click here to view the full sponsorship brochure.
For more information, contact us at runforbabiesdirector@gmail.com